>
Home
Updated: April 23, 2022
Triadelphia offers Sabbath School before the Worship Service on Saturdays at 9;30 AM.  This Sabbath School Class as Photographed is taking place in the winter and cold weather in the Sanctuary. In the warmer weather of Spring this class here will move outside into the Outdoor Chapel.  There are also several other Sabbath school classes indoors,  One extra English Class is in the Parsonage Room and there are a few more classes offered indoors in foreign languages ( one in Spanish, and one in Burmese ).  All classes start at 9:30 together in person and on Zoom.
Sabbath School Zoom Link:
https://zoom.us/j/95675416215?pwd=U0VDejJibzZub3dNczJKTmY0Y0xXQT09
Meeting ID: 956 7541 6215; Passcode: 714671
Focus on MISSION – Global and nearby (9:30 – 9:50) Sanctuary
Lesson study (9:50 – 10:35)
Adult Class – Sanctuary
Adult Class – Parsonage
Burmese Class – Lower Level
Spanish Class – Parsonage
YouTube (begins at 9:50 AM)        YouTube Link   https://www.youtube.com/channel/UCPskAn8I3WZ6FkUdr8JWnAw
Children (begins at 9:30 AM) Lower Level
Teens (begins at 9:30 AM) 2nd Floor
Youth (begins at 9:30 AM) Parsonage
There are also Children's Sabbath school classes that are taking place while the Adult Sabbath school classes are running.
Genesis is the 2nd quarter topic of study for the Adult Sabbath School in 2022.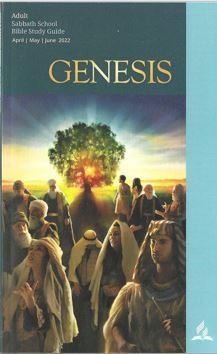 Online Sabbath School Lessons, ( Online Book Material )
This location provides the lessons ( Online Book Material ) also