>
Home
Updated: August 6, 2023
Triadelphia has a active Men's Ministry where men get together to fellowship periodically and discuss ways to minister to the community.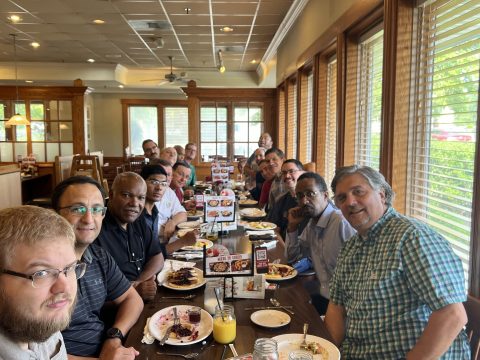 Men's Ministry Breakfast
Upcoming Triadelphia Men's Ministry Events
September 10, 2023  (Sun), 12-5 pm
Men + children outing - for all men, and dads are invited to bring their younger children (adult children welcomed, too); we'll meet at the church and from there head to a nearby pizza place, lake, super large playground, and ice cream.  More details being sorted out and shared before the event. Intended for men not bringing children, too.  A social time, some specific topics of discussion, and a time for our children to play together.  LASTLY, an opportunity for our mom's to have an afternoon to themselves with none or fewer of their children :)
October 7 (Sab), all day at Mt Aetna Camp in Hagerstown
Annual one-day Maryland Men of Faith conference.  This year's keynote speaker is is Douglas Na'a, Director for the It Is Written School of Evangelism called SALT.  Visit mmof.org to learn about this year's seminars, speakers and to register.
 
November 5 (Sun) 
Service Projects.  Currently we're reaching out to key families we can assist including widows/widowers.  More details to come