>
Home
>
About Us
Updated: March 13, 2021
Our History
In 1967 a small group of Seventh-day Adventists decided to start a church in the Clarksville area of Howard County. Within two months they organized into a church with 50 charter members. They first met at the Old Westwood Methodist Church on Triadelphia Road, and later the Glenelg Methodist Church on Burnt Woods Road for their Saturday morning services.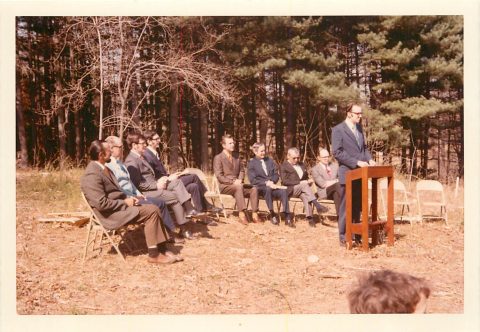 Highlights through the years include: 
July 1970 - Purchasing the Land 

April 15, 1973 - Groundbreaking

1973 – 1976 – Construction – beginning with the "parsonage" wing. Early members climbed through the rubble of the basement on Wednesday evenings to the room below the living/dining area of the apartment for prayer meeting.

June 7, 1975 - First Baptism. The baptistry was in place, but the roof was not finished. Participants remembered "the sky was clearly visible through the open roof."

December 1975 – Sabbath Services began in the downstairs Hall

June 5, 1976 – Worship Services were first held in the sanctuary. Former member Dennis Crews, creator of the stained-glass window, wanted to "create a mood of worship and reverence, yet with power and grandeur – a spiritual exuberance." The window continues to draw all eyes. It inspires - calms our spirits – refreshes our souls.

May 10, 1986 – Church Dedication. Ten years had past before the debts were finally paid and members could celebrate the dedication of this church facility. God had led.  He gave them miracles, encouragement, committed hearts, and a steadfastness that kept them believing in the mission.
SINCE THAT DAY OF DEDICATION
       Triadelphia has been
           A family to most,
                A haven for some,
                     Food for the hungry, 
                          Water to the thirsty, 
                               Dessert for all of us.